Herbal Tarot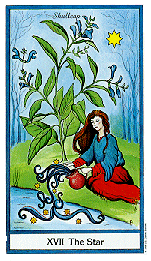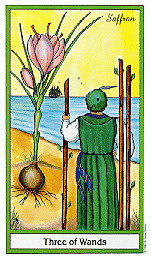 The Herbal Tarot combines the symbolic healing properties of herbs with the tarot. The deck was drawn by artist Candice Cantin under the direction of herbalist Michael Tierra. According to the creators, "the Herbal Tarot is a tool for studying the psycho-physical energy of herbs. It follows the general assignments of the Rider-Waite deck, but each card is assigned an individual medicinal herb based upon intuition, astrological and energetic values." For example, ginseng is assigned to the Fool and Chamomile to the Ace of Swords. The familiar name of the herb is written at the top of each card and the tarot name at the bottom. There is a separate companion book for this deck called The Spirit of Herbs: A Guide to the Herbal Tarot.

Deck

Number of
Cards
Size
Copyright
Card Back Design
78

22 major
56 minor

2 3/4"
x
4 3/4"
1989

Order - Amazon
Companion Book

Title
Author
Size
Number of
Pages
Copyright
Cover
The Spirit
of Herbs:
A Guide to
the Herbal
Tarot
Michael
Tierra
andCantin
4 5/8"
x
7"
222
1993

Order - Amazon
Language of Card Titles: English
Style of Suit Cards (2-10): picture scenes incorporating assigned herb
Also Included: instruction booklet, title card, inspiration card
Major Arcana:
Fool, Magician, High Priestess, Empress, Emperor, High Priest,
Lovers, Chariot, Strength, Hermit, Medicine Wheel, Justice,
Suspended Person, Death, Temperance, Pan, Tower, Star, Moon,
Sun, Judgment, World
Suit Names: Wands, Cups, Swords, Pentacles
Court Cards: King, Queen, Knight, Page
Links to Other Sites:
Review - Wicce website
Review - Taetia Zysshe website
SAMPLE CARD IMAGES: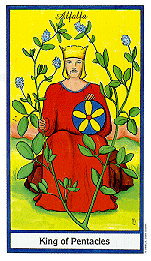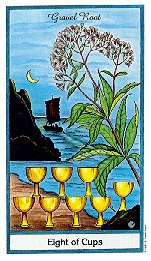 Reference - The Encyclopedia of Tarot: Volume 3 by Stuart Kaplan, pgs 587, 592-593.
---