Native American Tarot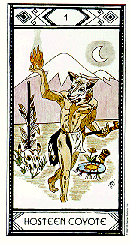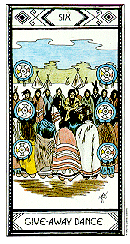 The Native American Tarot is the creation of a husband and wife team: Magda and J. A. Gonzalez. Magda "envisioned a tarot deck with a Native American theme encompassing lore from all the North American nations." She elicited the help of her artist husband to manifest her vision in colored pencil. This deck is based on the customs, lore and traditions of many different tribes including those from the East, Plains, Southwest, and Northwest. The suit names, court cards and many major arcana cards reflect the Native American theme. The back design is based on a Navaho sand painting and incorporates many Native American symbols. There is a separate companion book for this deck called Star Spider Speaks: The Teachings of the Native American Tarot.

Deck

Number of
Cards
Size
Copyright
Card Back Design
78

22 major
56 minor

2 3/8"
x
4 3/8"
1982

Order - Amazon
Companion Book

Title
Author
Size
Number of
Pages
Copyright
Cover
Star Spider
Speaks:
The Teachings
of the
Native
American
Tarot
Magda Weck
Gonzalez
and
J. A.
Gonzalez
6"
x
9"
206
1990

Order - Amazon
Language of Card Titles: English
Style of Suit Cards (2-10): story pictures
Also Included: instruction booklet, title card, "Sia Medicine Song" card
Major Arcana:
Fool, Hosteen Coyote, Corn Maiden, Medicine Woman, Council Chief, Shaman,
Lovers, Sled, Strength, Hermit, Medicine Wheel, Justice,
Sun Dance, Death, Weaver, Devil, Tower, Stars, Moon,
Sun, Judgement, World
Suit Names: Pipes (Wands), Vessels (Cups), Blades (Swords), Shields (Pentacles)
Court Cards: Chief (King), Matriarch (Queen), Warrior (Knight), Maiden (Page)
Links to Other Sites:
Review - Wicce website
Other Related Decks:
Medicine Woman Tarot
Santa Fe Tarot
Vision Quest Tarot
SAMPLE CARD IMAGES: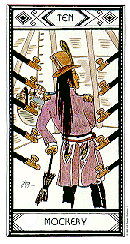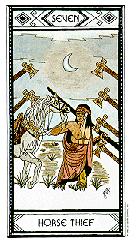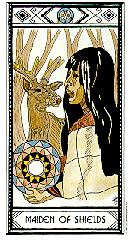 Text based on the instruction booklet, U. S. Games Catalog #49 and The Encyclopedia of Tarot: Volume 3 by Stuart Kaplan, pgs. 609, 614-615.
---